Today there's a new challenge up in the
Do You Stack Up Challenge blog
which I am sponsoring. Look at
fabulous cards/scrapbook pages of its DT
- these girls are so talented!
Here's Ren-Yi's card, she's a member of our DT as well as DYSU's: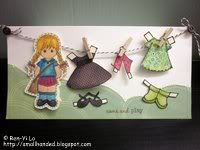 Which little girl (or indeed big girl) wouldn't love to get a card like this one? And I am bookmarking the
post in Ren-Yi's blog
because I am definitely going to copy her idea!